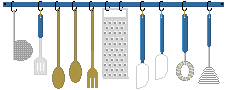 Salads

If you have a family recipe you want added here please e-mail me with your recipe. Please be sure to include measurements and directions. Enjoy!

Suzy

Caesar Salad
I was so lucky to find this recipe - it is the best Caesar salad I have ever had.
Orange, Nut, Gorgonzola and Mixed Greens Salad with Fresh Citrus Vinaigrette
One of my favorite salad recipes ever, adapted from an allrecipes.com recipe
Scallop Citrus Salad
Another scallop salad dish, a bit sweeter due to oranges
Suzy's Scallop Salad
Everyone loves this when I make it
Taco Salad
Beans added to the meat puts a twist on this family favorite. Can be made low fat.
Thai Beef Noodle Salad
The unusual Thai flavor combinations are wonderful in this salad.


visitors since July 2, 2002