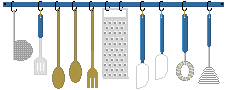 Drinks

If you have a family recipe you want added here please e-mail me with your recipe. Please be sure to include measurements and directions. Enjoy!

Suzy

Banana Cream Smoothie
A healthy banana milkshake
Bellinis
A slushy peach fizz, with or without alcohol.
Bikini Martini
Tropical but not sugary sweet, this drink is deceptively dangerous and addictive!
Doogh
An Iranian drink, this is yoghurt soda. Give it a chance, it's great!
Fruit Smoothie
Various fruits, yoghurt and OJ with ice. Healthy and delicious.
Herbed Lemon Water
Very refreshing and different
Mojitos
A Cuban Rum drink with fresh mint and lime.
Orange Suzilus
A frothy, icy, whipped orange drink
Strawberry Limeade
Easy to make and so refreshing on a summer day. With or without alcohol.
Strawberry Lush Slush
My variation on a strawberry margarita. Great without the alcohol too.


visitors since July 2, 2002