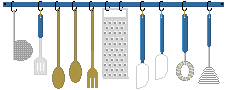 Breads and Muffins

If you have a family recipe you want added here please e-mail me with your recipe. Please be sure to include measurements and directions. Enjoy!

Suzy

Apple Pie Oatmeal
My own invention, this is a wonderful spin on an old favorite.
Banana Crumb Muffins
The bestest moistest banana muffin you have ever tasted :)
Gingerbread Pancakes
The smell while you make these is unforgettable. And they taste as wonderful as the smell
Oatmeal Raspberry Pancakes with Berry Coulis
Oatmeal raspberry pancakes with a fresh mixed berry jam
Popovers
Easy to make and they are so puffy and tasty.
Soft Pretzels
Homemade twisted large pretzels
Suzy's Pancakes
Nothing can compare to pancakes made completely from scratch!
Swedish Pancakes
Flatter and thinner (more like a crepe), these are wonderful with fresh fruit
Yoghurt Pancakes
You won't be able to tell these are made with yoghurt it makes a difference. A must try.
Zucchini Bread
Moist cake-like bread with shredded zucchini.


visitors since July 2, 2002