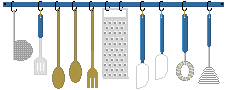 Sauces and Dressings

If you have a family recipe you want added here please e-mail me with your recipe. Please be sure to include measurements and directions. Enjoy!

Suzy

Blue Cheese Salad Dressing
No bottle of store bought dressing can beat home made
Dad's Saffron Tomato Sauce
As a kid, I remember when my dad would cook this. It is really incredible.
Dad's Salsa Ranchera
A cooked salsa, this is Dad's prize and praise winning recipe
Fish Marinade
Easy and flavorful; great on salmon
French Salad Dressing
A spicy sweet dressing, with the option to add sour cream and make it creamy
Fresh Tomato Vinagrette
This is wonderful on salads or as a fresh sauce for fish
Ginger Dressing
The ginger dressing they serve at Benihana Japanese Restaurants.
Marinara Sauce
Make a huge pot of this sauce and freeze it ahead of time. The flavor only gets better with time.
Olive Garden Salad Dressing
A creamy Italian that mimicks the restaurant's own.
Parmesan Cream Salad Dressing
This is the recipe for Coco's House Dressing it is soooo good
Sesame Tofu Dressing and Veggie Dip
A wonderful Asian style creamy dressing for salads or to dip in veggies
Suzy's Fresh Garden Salsa
A fresh salsa to serve chilled with chips or however you like
Teriyaki Sauce
A flavorful thick glaze for burgers, chicken, meats and fish


visitors since July 2, 2002