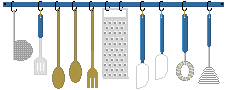 Appetizers

If you have a family recipe you want added here please e-mail me with your recipe. Please be sure to include measurements and directions. Enjoy!

Suzy

Artichoke Squares
Easy to make and very good
Buffalo Chicken Wings
Fried chicken wings in a hot and spicy sauce
Donna's Buffalo Chicken Wings
Donna's simple authentic recipe. She is from Buffalo she should know!
Bruschetta
Cool tomato and basil over toasted garlicky peasant bread
California Sushi Roll
This is a *cooked* sushi so it is not made with raw fish. So good! Try it
Caribbean Style Ceviche
Coconut gives this ceviche a different twist
Christmas Cheese Ball
Store bought cheese balls are gross! This one is so yummy and easy
Ceviche
Cool and fresh ...perfect on a hot summer day
Guacamole
Mmm nothing like homemade guacamole with chips, salsa, and strawberry margaritas :)
Herbed Cheese
Sometimes the most simple things can be the tastiest.
Hot Artichoke Spinach Parmesan Dip
Creamy and garlicky, this is wonderful
Hot Spinach Dip
The best you will ever have!
Lettuce Wraps
Similar to Asian spring rolls but with lettuce instead of wonton skin.
Olivada (Olive Spread)
This is sooooo good with crusty bread. And I don't even like olives.
Spicy Crab Puffs
Crab and cream cheese fried in wonton skins with a mustard dipping sauce.
Suzy's Fresh Garden Salsa
Homemade salsa doesn't take that much work, keeps well, and has so many uses.
Suzy's 1000 Vegetable Spring Rolls
Tons of crunch fresh veggies mingle with a spicy pork sausage to make a crunchy spring roll.
Suzy's Stuffed Mushrooms
I make these at Christmas and they are gone in a flash! Make extra!


visitors since July 2, 2002