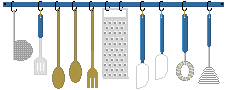 Desserts

If you have a family recipe you want added here please e-mail me with your recipe. Please be sure to include measurements and directions. Enjoy!

Suzy

Apple Pecan Upside Down Cake
Decadent but so good
Baghlava
An Iranian dessert with buttered flaky pastry, pistachios, and honey
Blue Ribbon White Cake
I haven't tried this recipe but it has won 3 Blue Ribbons at State Fairs
Brownies
A moist, cake-like brownie
Caramel-Pecan Fudge
A soft smooth buttery rich candy with the crunch of pecans (you can make it without nuts)
Carrot Cake
Moist and rich with little chunks of pineapple. Top with Cream Cheese frosting (below)
Cream Cheese Frosting
Lemon gives this fluffy frosting a fresh taste.
The Ultimate Cheesecake
The best cheesecake you will ever taste ~ with ideas for fruit or candy toppings
Chocolate Quake Cookies
Deeply chocolate these are soft, cakey and moist inside with a cracked powdered sugar surface.
Creamy Caramel Sauce
A buttery-rich sauce for ice cream, baked apples or plain cake
Creamy Cocoa Frosting
A chocolate cream cheese frosting
Chocolate Raspberry Shortcakes
Fresh and not too sweet, a very elegant dessert
Devil's Food Fudge Frosting
A rich chocolate frosting
Earl's Sweet Potato Pie
Donna's Brother-in-law's prized recipe :)
Fudgy Marshmallow Mound Cake
Chocolate cake with a marshmallow layer and frosted with fudge.
Grandma Melba's Saucepan Brownies
Easy to make and very moist.
Grandma Edgar's Pineapple Squares
Mom made these for me once, they are very special
Grilled Milk Tart
This is a prize winning recipe I haven't tried yet
Lady Baltimore Cake
A southern layered white cake with white frosting and lemon filling
Marshmallow Fudge
Yet another fudge recipe
Melt In Your Mouth Butter Cookies
The perfect Christmas cookie. Delicate yet delicious.
Hershey's Double Chocolate Mint Brownies
Cousin Angela sent this to me, it is an incredible frosted brownie
Midori Bundt Cake
An amazing unique flavor. It's green! Top with cherries and you have the perfect cake for Christmas
Mocha Marble Chocolate Chip Cookies
Two flavors, coffee and chocolate, and two contrasting colors, black and tan, are marbled together
Mormon Molasses Spice Cookies
Spicy soft and chewy in the center, with a sprinkling of crunchy sugar on their cracked top
Mayonnaise Chocolate Cake
I have never tried this but hear that mayonnaise makes a moist chocolate cake
Nan-e Berenji (Rice Flour Cookies)
An Iranian cookie that is very delicate and melts in your mouth.
Oatmeal Cookies
This is based the Quaker Oatmeal recipe, it makes a tender moist cookie
Peach Cobbler
The best cobbler recipe I have found
Raspberry Cherry Rugalah
This makes the most incredible cream cheese dough pastry. Omit fruits and use chocolate chips for a change!
Red Velvet Cake with White Frosting
A *very* red cake
Rocky Road Cola Bars
Dense chocolate cake with an unusual rocky road frosting
Soft Molasses Cookies
An old recipe from 1927 for an old fashioned taste. Cut into gingerbread men for fun
Sour Cream Coffee Cake
A recipe that looks good that I have yet to try
Strawberry Cream Cake
Easy to prepare and so fresh tasting on a summer day


visitors since July 2, 2002