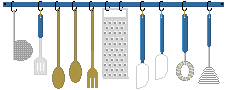 Main Meals

If you have a family recipe you want added here please e-mail me with your recipe. Please be sure to include measurements and directions. Enjoy!

Suzy

Baked Ziti Pasta
Baked pasta with meat and veggies in a zesty sauce, topped with brown bubbly cheese
Cheesy Chicken & Rice Bake
Chicken and brown rice casserole baked in the oven with cheese.
Chicken and Cheese Enchiladas
Homemade and authentic tasting enchiladas can't be beat
Chicken Penne
Chicken in a fresh tomato basil sauce with spinach
Chicken Piccata
Chicken in a lemon wine sauce.
Chipotle Chicken Wraps
Spicy chicken wrapped in tortillas with salsa, beans, rice, cilantro and sour cream
Dad's Eggplant Delight
Sliced Eggplant with a tomato sauce. Serve it with pasta or top it with browned bubbly mozarella
Dirty Rice
A spicy southern style rice dish "dirtied" by sausage bits and veggies
Grilled Salmon with Lemon Basil Cream
Grilled salmon with a lemon-basil cream sauce drizzled on top
Halibut Salad Sandwich
Halibut, pineapple and coconut make for a very different but very good sandwich
Honeyed Chicken Breasts
Chicken glazed in a Japanese style sauce
Iranian Marinated Beef
Coming Soon
Iranian Marinated Chicken
A truly different and delicious lemon yoghurt saffron marinade. Serve with white rice
Kutlet
Made with ground chicken, beef or veal, they almost melt in your mouth
Lasagne
Hearty Lasagne with four kinds of cheese, spinach, and a homemade sauce
Lubia Polo
From my mom's much loved recipe, a Persian saffroned rice, tomato sauce, and meat dish
Meatloaf
Not your average meatloaf. I hate meatloaf but I like this :)
Moo Goo Gai Pan
Make this classic Chinese dish at home! Very authentic tasting
Olive Garden Parmesan Crusted Chicken and Pasta
A crunchy chicken in a creamy sauce with pasta. Super fattening but really good
Pedaheh
A Ukranian dish of potato flour "raviolis" topped with butter and carmelized onions
Persian Pancakes
Not a traditional Persian dish but rather a unique family recipe; these are like savoury crepes. Wonderful.
Porcupine Balls
I used to eat these as a child: meatballs rolled in rice and cooked in a mushroom gravy
Roast Lemon Rosemary Chicken with Sauce
Lemon and rosemary infuse the chicken inside and out for a flavorful meal.
Saffron Tomato Chicken
A modern Persian dish from my family.
Stir Fry Noodles
Asian style noodles with veggies and chicken
Swedish Meatballs
Tender meatballs in a creamy brown sauce to serve with noodles or rice.
Sweet and Sour BBQ Chicken
A very different sweet sour sauce to marinate and glaze on BBQ or broiled chicken
Sweet and Sour Meatballs
A good friend's family recipe, tweaked by me :)
Tachin
A Persian dish made with baked saffron rice, yogurt, and chicken. Incredible.
Tempura
Fish and/or veggies deep fried in batter Japanese style. Well worth the hard work.
Thai Peanut Noodles
Udon noodles in a peanut sauce, with or without meat.
Thai Shrimp Curry
My attempt to copy one of my favorite Thai dishes. Tasty and and colorful.
Tofu Stir Fry
A really tasty dish. If you don't like tofu you can easily substitute cubed pork, shrimp, beef or chicken.
Un-Fried Chicken
This is from the recipe book by Oprah's Chef Rosie. SO good!
Quiche Your Way
An easy to make quiche, made distinct by the addition of your choice of meats and vegetables
White Chili
Chicken, navy beans, chilies and plenty of garlic make for a unique flavor
Yassa Poulet
This was my favorite dish while I was in Senegal, Africa. Chicken in a tangy lemon sauce.


visitors since July 2, 2002